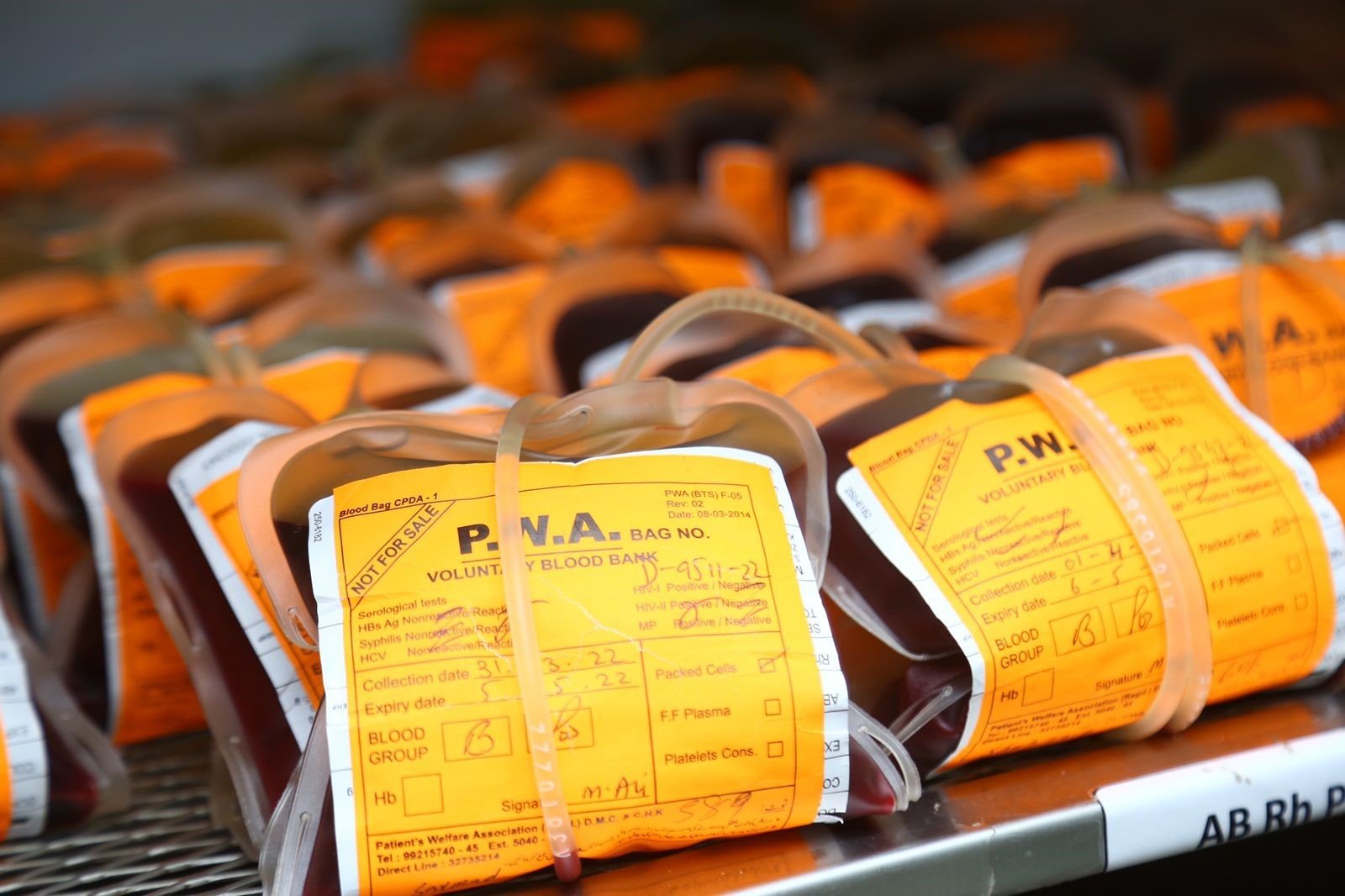 BLOOD TRANSFUSION SERVICES
PWA's Voluntary Blood Bank is the largest single outlet blood bank of Pakistan, registered under Sindh Blood Transfusion Authority (SBTA). Blood Transfusion Services are offered round the clock with a daily output of around 150 screened blood bags, Free of Cost. Blood products in the form of packed red cells, fresh frozen plasma and platelets, are provided according to the patient's need.To ensure safe blood transfusion, PWA uses Chemiluminescent Immunosorbent Assay (CLIA) technology to carefully screen each blood bag for Hepatitis B & C, HIV, Syphilis and Malaria as per WHO guidelines.
Since its establishment in 1982 through continuous voluntary blood donations, PWA has been providing regular blood transfusions to all registered and unregistered thalassemia patients. In addition to them, we have also been dispatching blood products to the needy at Dr. Ruth. K.M. Pfau, Civil Hospital Karachi and by extension, throughout the city.
Thalassemia is a hereditary blood disorder characterized by abnormal production of hemoglobin. It requires lifelong blood transfusions to maintain hemoglobin and iron chelation therapy to prevent iron overload resulting from multiple blood transfusions. PWA's Thalassemia Daycare Centre offers free of cost thalassemia management services to around 212 registered Thalassemia patients (annual management cost: PKR 345,000 – 393,000 per patient). It includes regular blood transfusions, costly iron chelation therapy, lab tests and supporting medications. We offer comprehensive management plans supervised by our competent Hematologist and highly trained team of Nurses and Medical Officers. We are also committed to spread awareness about thalassemia for its prevention and eradication by organizing different seminars and school campaigns.
PWA's altruistic services would never have been possible without our donors' endless support. We hope you will continue to succour us in our journey, because Only Together We Can Make a Difference!
"We Believed. We Achieved."
As we trace the journey of PWA 44 years back, a sense of satisfaction, achievement and accomplishment surrounds us.
Standing in the shoes of three ordinary medical students who had nothing but the will and determination to make a difference, we feel proud to have expanded their mission of transforming lives of millions of underprivileged patients visiting Dr Ruth K.M. Pfau, Civil Hospital Karachi as well as those throughout the city. .PWA's impact, starting from the distribution of medicines through a single cabinet to its position as the country's largest student-run NGO today, has influenced hundreds of thousands of lives spanning more than 4 decades. Our volunteer force, solely consisting of students of Dow Medical College, is more determined than ever to carry the legacy of "We Feel, We Serve" forward with firm belief in our motto that Only Together We Can Make A Difference.
Total blood products
dispatched in a year
Blood bags dispatched annually since 2012
Total registered patients in Thalassemia services